---
Contested Currents
The Race to Electrify America
---
George Westinghouse, Jr. was born in 1846 as the son of a machine shop owner. At the age of sixteen, George enlisted in the Navy. Throughout the United States Civil War, he served in both the Army and Navy.
Early in his life he witnessed a train wreck where two train engineers saw one another, but were unable to stop their trains in time using the existing brakes.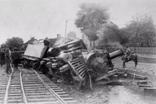 In 1869, at age 22, he invented a railroad braking system using compressed air. It was patented by Westinghouse on March 5, 1872. The Westinghouse Air Brake Company (WABCO) was created to manufacture and sell Westinghouse's invention.
---
Introduction/Site Map | Classroom Resources | Bibliography || Cover Page
---