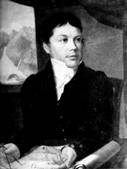 IGNAZ VENETZ
Swiss

You are an advocate for recent advances and retreats of glaciers based on the evidence of landforms within the Alpine valleys.

On GoogleEarth Tour pay particular attention to:

Familiarize yourself with the following Episodes:
"A Lost Epoque" Switzerland
Read and summarize:
"Temperature variations in the Swiss Alps" (open in a new tab then switch to "Plain Text" and use Google Translate to help with reading)
Be aware:
Your observations are well received, but are limited in extent. Others, such as de Charpentier and Agassiz, each in his own way, extend them further.