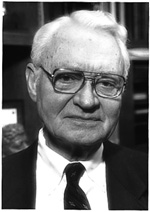 Darby in later years
William J. Darby
Darby is a renowned nutritionist, who has discovered and helped elucidate the role of vitamin M [later folic acid].
Be sure to review Chaps. 1-3, 7, 11-13, 15 in Silent Spring. You should be able to comment on Carson's credibility and the health safety of foods. Ideally, become familiar with the Miller bill and the case of the "cranberry scare" of 1959.
---
Bibliography
Darby, William J. 1962. "Silence, Miss Carson". Chem. & Eng. News (Oct. 1): 62-63.
Darby, William J. 1956. Safe Use of Pesticides in Food Products: A Report of the Food Protection Committee. Washington, DC: National Academy of Science.
Bean, William B. 1963. "The Noise of Silent Spring." Archives of Internal Medicine 112:62-65.
Stare, Frederick T. 1963. "Some comments on Silent Spring." Nutrition Reviews (Jan.)
comments by Arnold Laymond of the U.S. Food and Drug Administration on CBS Reports.