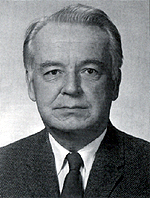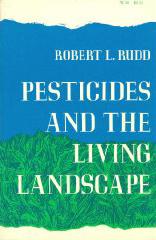 Robert Rudd
Rudd is an entymologist at the University of California and author of a forthcoming textbook on pesticide use.
Be sure to review Chaps. 1-2, 7-8 in Silent Spring. You should be able to comment on Carson's credibility and the benefits and harms of pesticides.
---
Bibliography
Rudd, Robert L. 1963. "The Chemical Countryside: A view of Rachel Carson's Silent Spring." Pacific Discovery 10-11.
Graham, Since Silent Spring, see index.
Lear, Rachel Carson: Witness for Nature, pp. 329-30.
Rudd, Robert L. 1959. "The Irresponsible Poisoners," The Nation (May 30, 1959): 496-497.
Rudd, Robert L. 1959. "Pesticides: The Real Peril." The Nation (November 28, 1959): 399, 401.
Rudd, Robert. 1964. Pesticides and the Living Landscape. Madison: University of Wisconsin Press.
Rudd, L. Robert & Genelly, E. Richard. 1956. Pesticides: Their Use and Toxicity in Relation to Wildlife. California Dept. of Fish and Game, Bulletin #7.